Let Paragon Sponsor Your Team
Club Paragon Rolls Out the Red Carpet When It Comes to Sponsorship!
1. We pay the complete entry fee
2. We pay any extra ball costs if not included in the entry fee
3. We give all teams a cash allowance towards shirts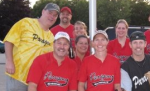 Each team gets to personally pick out and design the shirts they want. Club Paragon gives each team an allowance which will cover the cost of a quality T-shirt, screen printing on the front and left sleeve and 8" numbers on the back. If your team would like to order something different or more expensive you just pick up the difference.
4. We offer 16" Homemade Pizzas for a $1 more than a 12"
5. We offer a special price on a Pitcher of our Jumbo Wings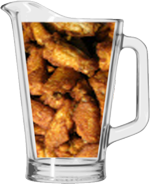 6. We offer Pitcher Discounts in the form of a punch card
Buy 7 pitchers and the 8th is free!
7. Various Outside Promotional teams such as Miller, Bud, Jack, Southern, Malibu, Jameson, American Honey just to name a few will be scheduled throughout the season on various nights.
These are just a few of the perks of playing for Club Paragon!
As you are reading this, Jeff is finalizing the other contests that will be offered for this season. We will have some other specials and contests involving some liquor companies. Last year we gave away over $1,500 in end of the year parties and merchandise.  Check back on this site for all of the details.
Please call Jeff if you would like Club Paragon to sponsor your Team!

Jeff 414-541-9270 ext 2 or email him at jeff@clubparagon.com
Even if Club Paragon is not the sponsor of your team but you bring in 6 or more players in uniform you will be treated like one or our own!